How to contact KR4ALL Pharmacy support?
You can contact us through our contact form or chat with a representative on the website.
Slide from left side of screen to pull the drawer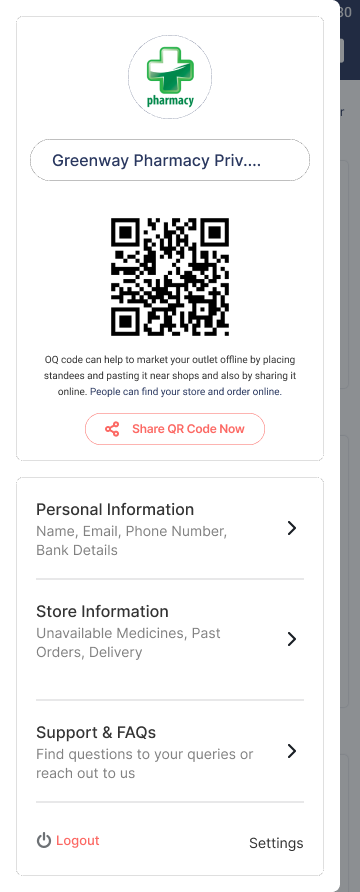 Click on 'Support & FAQs' to contact KR4ALL Pharmacy support.

One of our representatives will get in touch with you at the earliest.
Related Articles

How do I register my Pharmacy with KR4All? (How do I get started?)

Register Pharmacy Download the KR4ALL Pharmacy App from Play store or App Store and upload your KYC to get your shop verified. OR You start by entering your contact information on the app Proceed with OTP received on your mobile number you are ...

Will I receive orders if my pharmacy is offline?

No. Once your store is offline, your pharmacy will no longer be visible to customers to receive any orders.

Can I reject any order that is received by my pharmacy?

Yes. You can choose to reject orders in case of no availability, if your store is inactive or the prescription sent by customer is invalid. You can do it by going to orders section Then from the order details you can reject an order if you need to. ...

Is KR4All a Pharmacy?

No. KR4ALL is an aggregator that helps local pharmacies to sell prescription based medicines online to customers near them through KR4ALL's FREE digital platform to grow their sales and orders.

What are the mandatory documents needed to list your Pharmacy on KR4ALL?

You can sign up with KR4ALL with minimal documentation. Following documents would be mandatory for registration on KR4ALL : Drug Licence (Form 20, 21) Shops & establishments certificate GST certificate Bank account details PAN Number Once all the ...